This morning in between meetings,
I was trying to figure out what my next blog should be on.  In reviewing my list of topics, none of them were hitting me for what I wanted to write about today.  Then my next meeting started and yes, the universe heard my quandary for this and gave me the answer! In a conversation with my client, Elizabeth Hudson, the founder and owner of her wonderful company, The Happiness Tree, we started talking about people reinventing themselves.  Elizabeth has been going through this thought process for a couple of years.  Please allow me tell you a little of her story.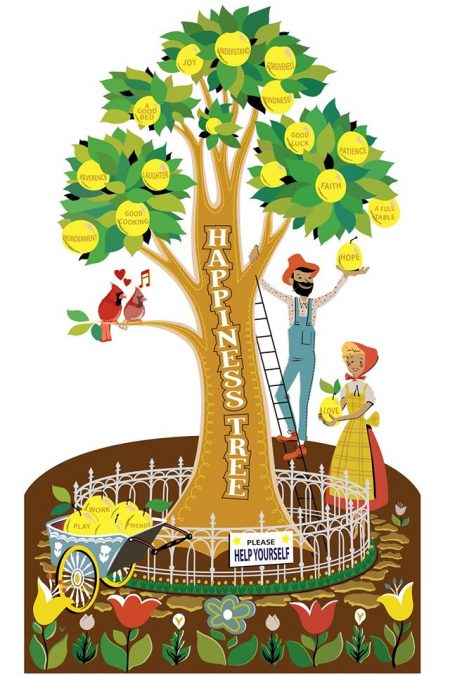 When I first met Elizabeth,
she came through my program to be coached for her family business, who owned,  an apartment complex.  It had been in her family for 3 generations and what they had created as a family is amazing. Her residents loved living there, and still do. The employees are so important to them, they are like family also. It has been a great environment for her to grow up and work in.  Such a blessing.  However, as her mother is getting older and Elizabeth was beginning to feel being pulled in another direction, sometimes change and opportunities come along.  And that is what happened here.  This led her to starting to reinvent herself. 
So, let's talk about reinventing ourselves.
With what has been going on with the pandemic many have been trying to either re-work their businesses or even becoming the inventor of something new and starting their own business.  For so many, they weren't even looking to do this, they were kind of pushed in that direction.  If you took that leap, I so applaud you!  It is the first great step!
Reinventing ourselves can be so frightening.  It is what stops most people.  They live in the 'What if' world.  Now, there are two parts to that world.  The one that stops people is 'What if this goes wrong?' or 'What if that happens?'.  They create the negative list of what could be, and it can be a long list. That list is what stops people from moving into action.  However, then there are those that do not want to be in that part of the world.  The do not want to look back and say: "What if I had done __________?"  Some of you may be able to fill in the blank. That was very much my story.
I was 20 years old, had never lived away from home. I grew up in a town where there were more cows than people.  I went to college in the area, worked in the area and my whole family lived in the area. Then one day, I got the opportunity for a job in Southern California.  I was more afraid of not taking it than taking it!  Let me tell you, making this move to a place where I did not know anyone, a city where there were no cows and a lot of people and cars and freeways, finding a place to live, was very scary.  However, I didn't want to look back and say, 'I wonder what would have happened if I had moved to California?'.   Then I moved to New York City for a year, again for the same reason.  Then back to California, because I realized it was where I wanted to be at the time.  I am so happy I did all of that, I met my husband in California and created a great life with wonderful memories. Best of all, I never had to say "What if?".
'Now, let's talk about job reinvention. 
Yes, I did that a few times also.  While I was working on my business degree in college, I worked at a bank as a teller, then an assistant bookkeeper.  Moved on from there start working in customer service of another company and that is how I ended up in California the first time, to run a Customer Service Department.  Eventually, I moved into the garment manufacturing world and into management.  Yes, that may not sound like reinvention, however with each career move there is change and reinvention of yourself and what you do.  When my husband and I left California, due to a relocation with his job, I reinvented myself into a mortgage loan processor and then a mortgage loan originator.  It was a whole new world and a lot to learn.  This led me into becoming a BNI Director for 18 years. It was this career that led me to my passion of coaching and helping people become successful.  A mentor kept trying to get me to leave the mortgage world to do coaching fulltime and I kept pushing back.  I was afraid, I didn't want to let go of the security of what I was doing, however, I didn't like what I was doing.  The mortgage career I always said it found me, I didn't find it.  Then one day, I said to my husband, "You know, if I am going to do something, I should be doing something I love."  I took the leap and reinvented myself again into a Success Coach. My passion!

Back to Elizabeth. 
She found her love of the DoTerra Essential Oils first.  However, that led her into wanting to do so much more and what she is creating with her company, The Happiness Tree.  It is a place for people to find their peace, through the oils, workshops, yoga, meditation, guest speakers, and so much more.  She wants all to have a better life.  I, personally, cannot wait to see where she takes this!  The sky is the limit!
It was so much fun today, because it got me to thinking about my clients who have done the same.  They took that leap of faith and left careers they didn't like or some were starting a second career, however, this time, in something they are passionate about.  These clients, I am happy to say, have new lives and are so much happier in what they are doing.  Some are very profitable, and some are filled up by what they do and make enough to have the life they want.  It just depends on the person.  Isn't that what it should be about, having the life we want, whatever that looks like?
Reinvention can be scary, but really it is the first step that is scary.  After that first step the journey can be amazing!  
Kind Words from Happy Clients
We Will Work Our Way Through Together
Each Thursday at 3 p.m. a great group of entrepreneurs and business people gather to have great conversation, share ideas, and help each other grow their businesses.  The only thing missing is you! Click on 'Contact' above and I will send you the link!  This is not a sales pitch, it is just to let us help you!
Zoom LInk
 https://us02web.zoom.us/j/517703644
The Next WOW Group Session is in....
: