The Next Part Of the Journey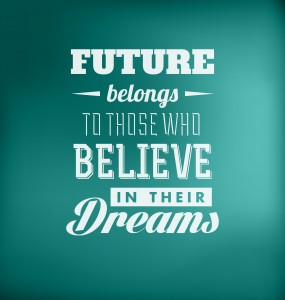 When I was a little girl, one of my favorite things to do was to lay on the grass on a warm summer day and look up at the clouds and dream, a dream of what could be. Who would have known that back then I was practicing for what I do today helping people learn how to create the vision of their lives and then how to make it happen.
Did you just have a memory of dreaming as a child? Think about all the imaginative things you did as a child; be a rock star, nurse, doctor, action hero. Whatever it was, you had dreams of what could be. However, as we grow and age life kicks in, and those visions for many tend to fade. There are bills to pay, families to think about that all seem more important than your old dreams. Today, it is time to embrace your dreams, give yourself permission to go there. Remember where we started with 'The Path' and then 'Risk'? Well, you can't journey down a path, and you can't take a risk without a Vision.
Now, take a moment and think, think about what you want your life to look like. Money and time are not a problem; you have lots of both. What would your life look like? Do you see it? Do you dare allow yourself to see it? That is the bigger question. Many are afraid to create a big vision because of the fear of failure or 'I can't do that' mode. My heart aches for you if that is you. Think about how many times Thomas Edison or Steve Jobs failed before they succeeded. Each time was a learning experience never a failure, and man, those guys had great visions!
My son taught me that having a vision can make things happen. At 9 years old he told me "Mom, I am going to be a lawyer and go to Yale on a full paid scholarship." I said as many parents would, that he can do anything he wants. Christopher never let go of his vision and though his path took a little different direction, (he went to Bellarmine University on a paid scholarship instead of Yale), today he is a practicing lawyer.
My clients are required to do two things when they work with me; write their 'Afformations' (read Noah St. John's book: Little Book of Afformations) and create a personal vision board that covers both the personal and business life they wish to have. Some, actually most, have never done this before. Once they have their list of Afformations they start putting them into pictures, pictures they get from the internet, magazines, etc. They arrange them on a poster board or whatever their creative mind brings to them, (some have even been created in 3D). The best part is, what they want to have when they start looking towards the future is always amazing. However what brings me to my knees is that 95% of them have come back to me to tell me what has come true on their boards. The power of putting what they want in a world of pictures and words is changing their lives.
You have permission to dream, to write your Afformations, get your poster board and start to create your life.
The life you want is out there; you will have to put some effort into it, you will have to believe, and you will have to keep moving towards it. But when you get there; WOW!!!